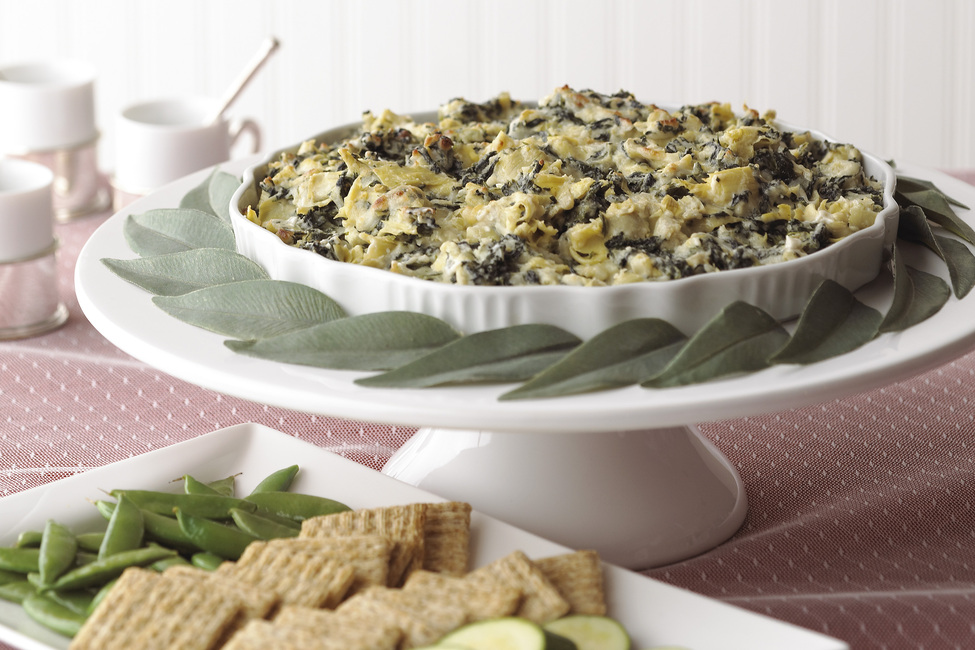 Easy Spinach Artichoke Dip with Cheese
Enjoy the richness and flavor of your favorite appetizer, this Easy Spinach Artichoke Dip with Cheese! This easy spinach artichoke dip is warm and gooey for dipping.
Total Time: 30 Min(s)
Prep Time: 10 Min(s)
What You Need
1 can (14 oz.) artichoke hearts, drained, finely chopped
1 pkg. (10 oz.) frozen chopped spinach, thawed, well drained
3/4 cup KRAFT Grated Parmesan Cheese
3/4 cup light Mayo
1/2 cup KRAFT 2% Milk Shredded Mozzarella Cheese
1/2 tsp. garlic powder
Let's Make It
Heat oven to 350°F.
Combine ingredients.
Spoon into 9-inch quiche dish or pie plate.
Bake 20 min. or until heated through.
Kitchen Tips
TIP 1
Awesome Spinach and Mushroom Dip
Substitute 1 cup chopped mushrooms for the artichokes.
TIP 2
Nutrition Bonus
This tasty appetizer serves up an excellent source of vitamin A from the spinach.
TIP 3
Serving Suggestion
Serve with cut-up fresh vegetables and/or your favorite crackers.
Nutrition Facts
servings per container
---
Amount per serving
% Daily Value*
Trans Fat 0g
Includes 0g Added Sugars
0%
Protein 3g
---
---
The % Daily Value (DV) tells you how much a nutrient in a serving of food contributes to a daily diet. 2,000 calories a day is used for general nutrition advice.