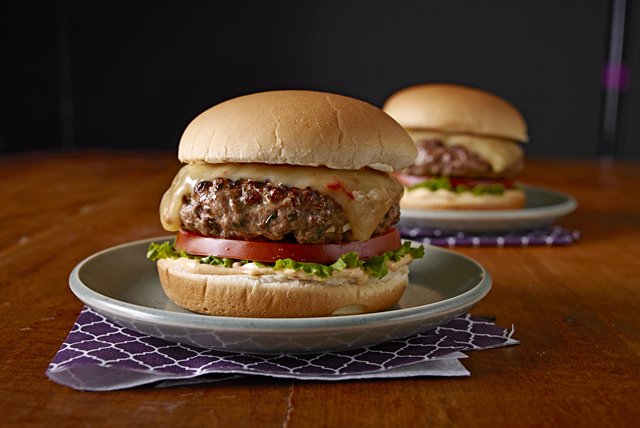 Gourmet Habanero Burgers
Make the ultimate Gourmet Habanero Burgers with this simple recipe. Just add habanero cheese slices and toppings like aioli, tomato and garlic to finish the Gourmet Habanero Burgers experience.
Total Time: 25 Min(s)
Prep Time: 25 Min(s)
What You Need
1 canned chipotle pepper in adobo sauce plus 2 Tbsp. adobo sauce
1 lb. lean ground beef
2 Tbsp. chopped fresh cilantro
2 cloves garlic, minced
4 KRAFT Big Slice Hot Habanero Cheese Slices
1/4 cup chipotle aioli
4 hamburger buns
4 lettuce leaves
1 tomato, cut into 4 slices
Let's Make It
Heat grill to medium heat.
Chop pepper finely; mix with meat, cilantro, garlic and adobo sauce just until blended.
Shape into 4 (1/2-inch-thick) patties.
Grill 5 to 6 min. on each side or until done (160ºF). Top with cheese; grill 1 min. or until melted.
Spread aioli onto bottom halves of buns; cover with lettuce, tomatoes, cheeseburgers and tops of buns.
Kitchen Tips
TIP 1
Serving Suggestion
Serve with assorted cut-up fresh vegetables to balance out the meal.
TIP 2
Variation
For milder flavor, reduce the adobo sauce to 1 Tbsp.
Nutrition Facts
servings per container
---
Amount per serving
% Daily Value*
Trans Fat 0g
Total Carbohydrate 26g
9%
Includes 0g Added Sugars
0%
Protein 33g
---
---
The % Daily Value (DV) tells you how much a nutrient in a serving of food contributes to a daily diet. 2,000 calories a day is used for general nutrition advice.