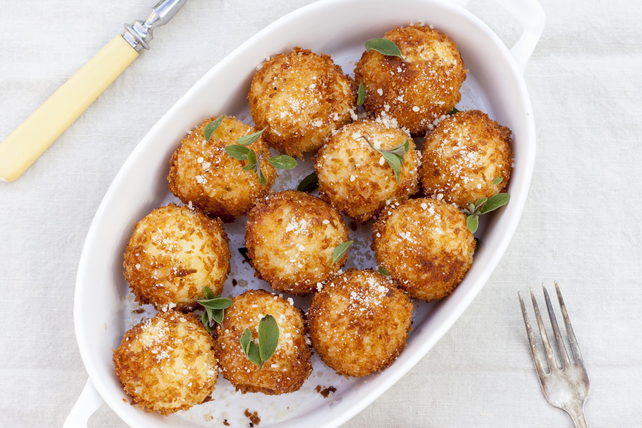 Arancini with Marinara Sauce
Whet their appetites with Arancini Balls with Marinara Sauce. Arancini balls are a traditional Italian appetizer of stuffed rice balls coated in bread crumbs and deep fried. Do we have your attention yet? Good. Your family will sure appreciate it!
Total Time: 35 Min(s)
Prep Time: 35 Min(s)
What You Need
1 egg, beaten
1/2 cup chive & onion cream cheese spread
3 cups cooked short-grain white rice, cooled
1-1/4 cups panko bread crumbs, divided
1/2 cup plus 1 Tbsp. KRAFT Grated Parmesan Cheese, divided
2 sticks KRAFT or POLLY-O Mozzarella String Cheese
2 cups oil
1 Tbsp. fresh marjoram leaves
1/2 cup tomato & basil pasta sauce
Let's Make It
Mix egg and cream cheese spread in large bowl until blended. Add rice, 1/2 cup bread crumbs and 1/4 cup Parmesan; mix well.
Use moistened hands to roll rice mixture into 16 balls, using about 2 Tbsp. rice mixture for each ball.
Cut each stick of string cheese into 8 pieces; insert 1 mozzarella piece into center of each ball, completely enclosing mozzarella with rice mixture.
Combine remaining bread crumbs with 1/4 cup of the remaining Parmesan in shallow dish. Roll rice balls, 1 at a time, in bread crumb mixture, turning to evenly coat all sides of each ball.
Heat oil in Dutch oven on medium-high heat to 325°F. Working in batches, add rice balls to hot oil; cook 4 to 6 min. or until evenly browned, turning occasionally. Use slotted spoon to remove rice balls from oil; drain on paper towels. Transfer rice balls to plate; sprinkle with marjoram and remaining Parmesan.
Heat pasta sauce. Serve with the rice balls.
Nutrition Facts
servings per container
---
Amount per serving
% Daily Value*
Trans Fat 0g
Total Carbohydrate 16g
6%
Includes 0g Added Sugars
0%
Protein 5g
---
---
The % Daily Value (DV) tells you how much a nutrient in a serving of food contributes to a daily diet. 2,000 calories a day is used for general nutrition advice.