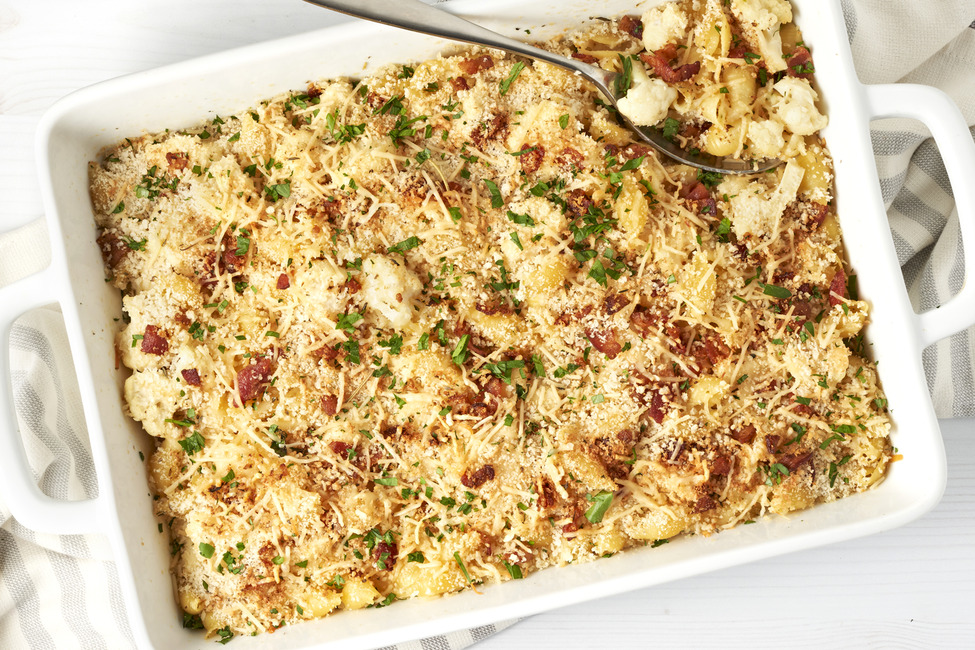 Cauliflower-and-Parmesan Pasta Bake
Dig in to this Cauliflower-and-Parmesan Pasta Bake. With smokey bacon and lots of cheese, it's earned a place on your dinner table. If you're looking for an easy and delicious entrée, our Cauliflower-and-Parmesan Pasta Bake is a winner.
Total Time: 45 Min(s)
Prep Time: 35 Min(s)
What You Need
3 cups medium pasta shells
4 slices bacon, cut into ½-inch-thick slices
3 cups small cauliflower florets, coarsely chopped
2 cloves garlic, minced
2 Tbsp. flour
1/4 tsp. ground black pepper
2 cups milk
1 tub (5 oz.) KRAFT Shredded Parmesan Cheese, divided
1/2 cup Italian-seasoned panko bread crumbs
Let's Make It
Heat oven to 375°F.
Cook pasta as directed on package, omitting salt.
Meanwhile, cook and stir bacon in large skillet over medium heat until crisp. Remove bacon from skillet with slotted spoon; drain on paper towels. Discard all but 2 Tbsp. drippings from skillet. Reserve 1 Tbsp. drippings for later use; return remaining reserved drippings to skillet.
Add cauliflower to skillet; cook, stirring frequently, 4 to 5 min. or until crisp-tender. Add garlic, flour and pepper; cool and stir 1 min. Stir in milk; cook, stirring frequently, 8 to 10 min. or until thickened. Add 1 cup cheese; cook and stir 1 to 2 min. or until melted. Remove from heat.
Drain pasta. Add to cauliflower mixture along with the bacon; mix lightly. Spoon into 13×9-inch baking dish sprayed with cooking spray.
Combine bread crumbs with reserved bacon drippings and remaining cheese; spoon over pasta mixture.
Bake 10 min. or until cauliflower mixture is heated through and bread crumb topping is golden brown.
Kitchen Tips
TIP 1
Serving Suggestion
Serve with fresh fruit and a tossed green salad to round out the meal.
TIP 2
Special Extra
Sprinkle with chopped fresh parsley before serving.
Nutrition Facts
servings per container
---
Amount per serving
% Daily Value*
Trans Fat 0g
Total Carbohydrate 32g
11%
Includes 0g Added Sugars
0%
Protein 17g
---
---
The % Daily Value (DV) tells you how much a nutrient in a serving of food contributes to a daily diet. 2,000 calories a day is used for general nutrition advice.