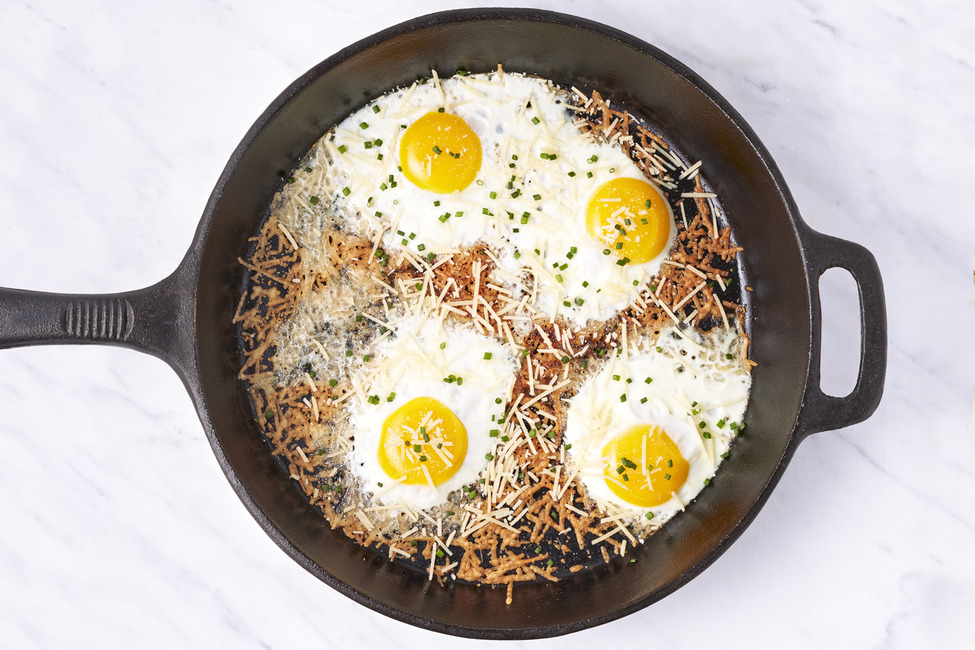 Crispy Parmesan Eggs
Make a boring breakfast a little more special with these Crispy Parmesan Eggs. Use crusty Italian bread to soak up the runny yolks. Start your day with a smile and these delightful Crispy Parmesan Eggs.
Total Time: 10 Min(s)
Prep Time: 10 Min(s)
What You Need
1 tsp. oil
3/4 cup KRAFT Shredded Parmesan Cheese, divided
4 eggs
4 slices Italian bread, toasted
Let's Make It
Brush oil onto bottom of 10-inch nonstick or well-seasoned cast-iron skillet; place over medium heat. Sprinkle 1/2 cup cheese evenly onto bottom of skillet; cook 2 min. or until cheese begins to melt.
Slip cracked eggs, one at a time, over cheese, leaving spaces between eggs; cover skillet with lid. Cook 3 to 4 min. or until egg whites are almost set; remove lid. Cook eggs additional 2 to 3 min. or until whites are set, edges of whites are crisp and golden brown, and yolks are cooked to desired doneness. Remove from heat.
Sprinkle eggs with remaining cheese. Serve with toast slices.
Kitchen Tips
TIP 1
Special Extra
Sprinkle with chopped fresh chives, or top with pesto before serving.
TIP 2
Important Note
Keep an eye on the cheese as the eggs cook. If it starts to turn golden brown before the eggs are done, reduce the heat as needed.
TIP 3
Serving Suggestion
Pair with a fresh fruit salad.
Nutrition Facts
servings per container
---
Amount per serving
% Daily Value*
Trans Fat 0g
Total Carbohydrate 16g
6%
Includes 0g Added Sugars
0%
Protein 16g
---
---
The % Daily Value (DV) tells you how much a nutrient in a serving of food contributes to a daily diet. 2,000 calories a day is used for general nutrition advice.