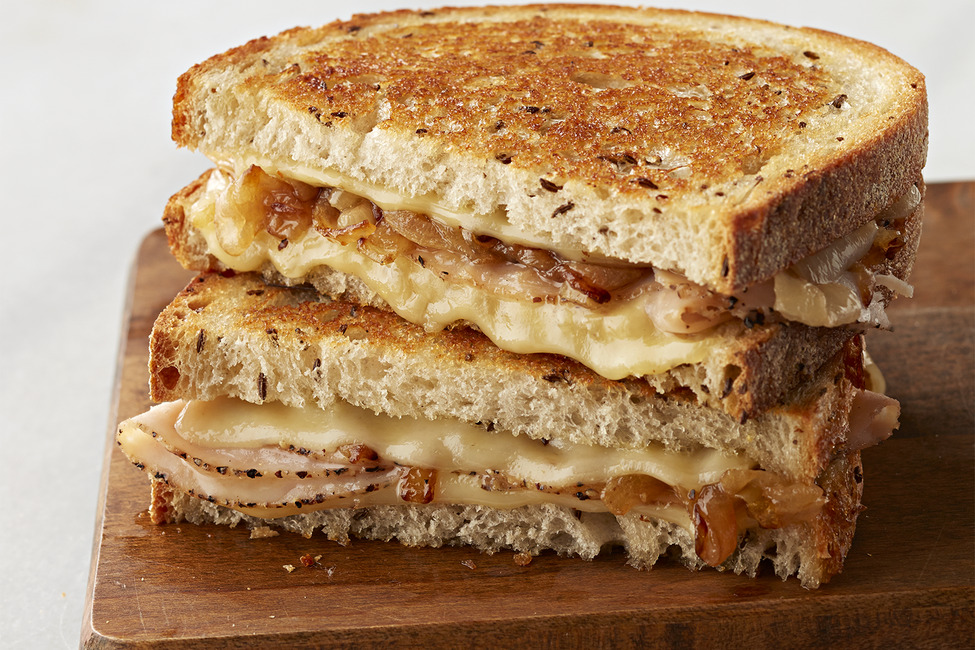 Grilled Swiss Cheese, Turkey & Onion Sandwich
Discover how good grilled cheese can be with the Grilled Swiss Cheese, Turkey & Onion Sandwich recipe. You may not usually plan ahead when you're making a grilled Swiss cheese and turkey sandwich just for you. Try it this one time. (You'll be glad you did!)
Total Time: 45 Min(s)
Prep Time: 45 Min(s)
What You Need
1 small onion, thinly sliced
1 Tbsp. Italian dressing
2 slices rye bread
1 tsp. coarse ground mustard
1 KRAFT Big Slice Aged Swiss Cheese Slice, cut in half
3 slices cracked pepper turkey breast
2 tsp. butter or margarine, softened
Let's Make It
Cook onions in medium skillet sprayed with cooking spray on medium-low heat 30 min. or until golden brown, stirring frequently. Remove from heat; stir in dressing.
Spread 1 bread slice with mustard; top with cheese piece, turkey and onions; cover with remaining cheese piece and bread slice.
Spread outside of sandwich with butter. Cook in skillet on medium heat 3 min. on each side or until cheese is melted and sandwich is golden brown on both sides.
Kitchen Tips
TIP 1
Serving Suggestion
Serve with a smart side of an avocado and onion salad to round out the meal.
TIP 2
Substitute
Prepare using multi-grain bread.
TIP 3
Make Ahead
To save time when preparing this tasty sandwich, the onions can be cooked ahead of time. Cool the grilled onions, then refrigerate up to 24 hours. When ready to use, microwave onions in microwaveable bowl on HIGH 45 sec. or just until warmed. Use to prepare sandwich as directed.
Nutrition Facts
servings per container
---
Amount per serving
% Daily Value*
Trans Fat 0.5g
Total Carbohydrate 42g
15%
Includes 0g Added Sugars
0%
Protein 17g
---
---
The % Daily Value (DV) tells you how much a nutrient in a serving of food contributes to a daily diet. 2,000 calories a day is used for general nutrition advice.